Welcome to the Slam Dunk Wiki, a wiki dedicated the Slam Dunk anime and manga series by Takehiko Inoue that anyone can edit! Please help us by creating or editing any of our articles.
We are currently editing
636 articles
since December 15, 2009.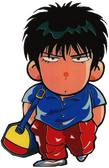 Hanamichi Sakuragi, a delinquent outcast and leader of a gang - who was rejected fifty times - encounters Haruko Akagi, who recognizes Hanamichi's athleticism and introduces him to the Shohoku basketball team. Hanamichi was reluctant to join the team at first as he had no previous sports background (and because the fiftieth girl rejected him for a basketball player), but despite his immaturity and hot temper, he proves to be a natural athlete with potential, initially joining the team in order to impress Haruko, but later coming to love the sport and working his best to help the team win the nationals.


Hanamichi Sakuragi is the main character of the Slam Dunk series. Initially a slacker; good for nothing but fighting. He's the leader of the feared "Sakuragi Legion", consisting of his four delinquent friends. After being rejected fifty times, he then met Haruko Akagi, who invited him to join the Shohoku basketball team. However, as a complete beginner, he is not able to keep up with the rest of the team at first, despite his physical attributes, but later...

...Read more
If you would like to become an affiliate of the Slam Dunk Wiki, please contact us.